Who We Are
Cities along the U.S.-Mexico border face an increasingly complex set of challenges related to health, energy, infrastructure, environment, productivity and the movement of goods and people. The Border Solutions Alliance, building on the Smart and Connected Communities framework, will foster collaboration among academic institutions, government agencies, nonprofit organizations and industry partners on both sides of the U.S.-Mexican border. Research collaborations established during workshops in San Diego and El Paso, followed by a convocation in Washington, DC, will lead to the development and implementation of smart-technology solutions for long-standing trans-border community issues.  
Participants
The Alliance is a collaboration among five U.S. universities located in the U.S.-Mexico border region:
---
Submit a project info sheet by September 13 to be eligible for $5,000 in prizes
Data has the power to help us see challenges through different lenses, discover solutions that may not otherwise be evident, and put tools into the hands of those who need them most — empowering communities to work together in new ways. As the COVID-19 pandemic causes us to rethink priorities, we believe that co-creating data-driven solutions – with a focus on equity and trust-building – will give communities new skills and tools for problem-solving with limited resources. 
In response to this need, we invite you to sign-up here to join our data challenge organized in collaboration with the West Big Data Innovation Hub. Details are available here.
Convocation: Data-Driven Discovery at the U.S.-Mexico Border
Thursday, February 6 | National Academy of Sciences, Washington, DC
During this convocation, the Border Solutions Alliance highlighted opportunities for innovation in data-driven research in science and engineering at the intersection of technology and society that emerged during the workshops.
Click HERE to see the Agenda
Click BELOW for the Presentations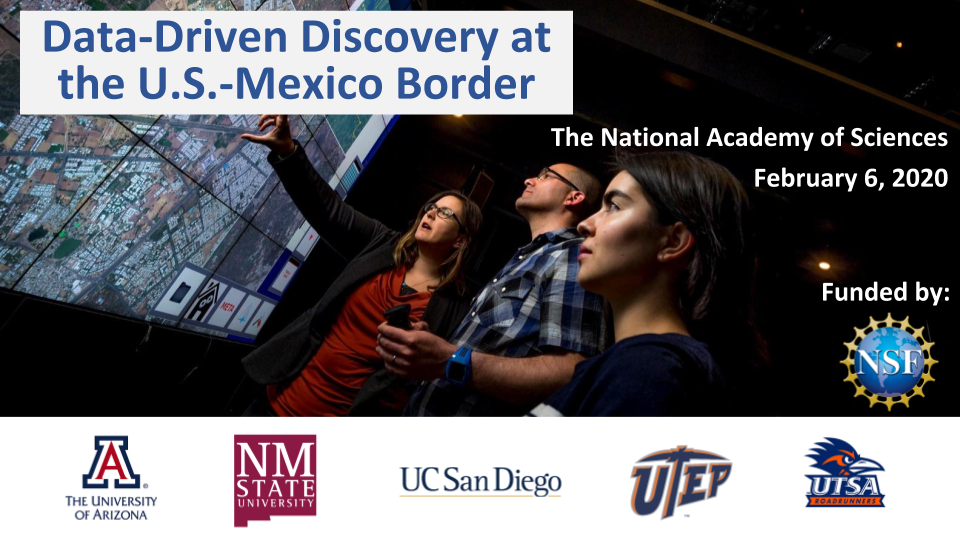 Workshops
San Diego/ Tijuana – June 5-7, 2019
Invited attendees will participate in breakout sessions on urban-rural resilience, advanced manufacturing and intelligent mobility. A transversal theme of the workshop is the importance of developing a cross-border STEM talent pipeline.
El Paso – June 10-12, 2019
Invited attendees will participate in breakout sessions on water and sewage management, healthcare, and disaster management and resilience.
Click HERE for the Summer Workshop Presentations